Today I am making a cherry pie (it is PI day after all 3.1416…!) I notice as I measure the ingredients and cut in the butter and form the lattice top that I am so focused on what I am doing that I'm not thinking about anything else. I have found my flow. This flow state leaves no room for worries or negative thoughts that otherwise might be vying for attention.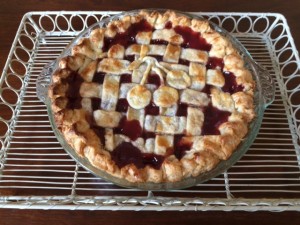 Flow can be found when a child is building a sandcastle or getting lost in pretend play. Art Therapist Cathi Malchiodi writes, "In art therapy, we often speak of that moment in art making when "flow" occurs– an experience of losing oneself in the experience, but at the same time being present and engaged in the process. Being in the flow state can help you become more relaxed and begin to observe yourself in new ways." Hence the popularity of adult coloring books!
How can you find your flow? For me, it is when I am using my hands. An art project, knitting, gardening, and baking. Athletes might experience flow when they are running a long distance. Sometimes this is referred to as runners high. They report feeling calm, focused and confident.
Cathi Malchiodi in her book The Art Therapy Sourcebook gives some suggestions for how to experience flow:
1. Challenge yourself-choose something that is a challenge but not so much that you become discouraged or bored
2. Maintain your focus-stay in the present moment and don't judge yourself. Engage in a relaxation exercise before you start to reduce anxiety and allow whatever you are working on to take shape
3. Give yourself time-repeatedly stopping in the middle of what you love to do inhibits flow and stifles creativity
4. Allow yourself to become hooked-once you find your flow through a creative activity, return to it whenever you can.
While finding flow will not solve our challenges and struggles, it will help us discover our inner resources, realize our own potential for change and growth, and enhance overall quality of life.
~Judy Petrushka, LCSW, CDVP