I remember the day that I was preparing for my first Somatic Experiencing™ (SE) Training weekend, and doing a phone consultation with a Somatic Experiencing Practitioner. She told me that Somatic Experiencing was a gift that would "change my life." As I had never had that promise regarding any other therapy modality, I was intrigued and asked her why.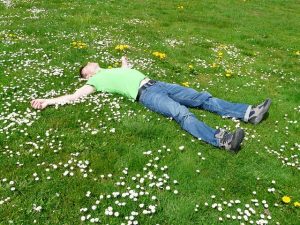 She responded that Somatic Experiencing focuses on nervous system regulation, and that as I got to know my nervous system and befriend it, I might be surprised by what I discovered. Again I asked for more information, so she shared, "Oh, for example, you might find that some of the relationships in your life don't work for you so well anymore, so maybe you'll set some new boundaries in your life or cut out relationships that do not feel good."
Boy was she right! I have kept those words close to me, initially out of curiosity, and later because they began to ring true. This, I have discovered, is both the blessing and the curse of SE. You see, once you begin to befriend your nervous system and actually LISTEN to what your body is telling you, it is very hard to continue to disregard the body's "voice" or even shut it off!
Yes, there are times when I wish I could "go back to the good old days" when I had no idea that my nervous system could speak to me, let alone know what the heck it was saying. Ironically I often wish for these moments at the very times when my nervous system speaks the loudest – warning me that I need to slow down, make a change, or do something different to settle myself.
However, this awareness of our nervous system's signaling is the very gift of SE. In a world rife with tuning out signals from the neck down, we see the consequences: individuals plagued with adrenal fatigue, fibromyalgia, lack of sleep, restless leg syndrome, and myriad other symptoms that arise from trauma and/or overriding the body's very natural methods of telling us to take a break and re-settle ourselves. How often do we think or say, "No! I can't stop now! I have too much to do! I have to stay strong and push through for my kids! My partner! My job!" These thoughts, while maybe helping us in short term, create more problems for us physically, mentally, and emotionally in the long term when we chronically let them trump our body's signals.
When I think about the gift of SE, I'm reminded of a commercial from when I was a little girl. "Calgon, take me away!" was the phrase voiced by the woman who just needed to relax with her Calgon bath products. As I have journeyed with my nervous system these past few years, I believe it has been telling me the same thing. All of our body's systems, if we learn to listen to them, ask us to find space to settle, calm, and re-regulate amidst life's tumultuous waves. And, while it would be easier at times to ignore that inner voice, doing so ultimately leads to intensification of symptoms, issues, and stress responses.
I encourage you to be courageous enough to slow to the speed of your body's wisdom and listen to what your nervous system is telling you. If you need help, contact a Somatic Experiencing practitioner (Life Care Wellness has several). Like me, I'm sure there will be days when you wish you could just turn off your body's "voice," but ultimately, learning how to work with your body, instead of against it – learning how to hear the signals that your nervous systems is sending you – will take you on a journey of self-discovery that gets you off the hamster wheel of frantic and frenzied activity. It will lead to leaving behind anxiety and trauma symptoms that have kept you bound up and running for years, and it will lead, ultimately, to a life that is more free and spacious. Take it from me – the risk is worth it.
~Meghan Vosloo, LCSW, SEP
(Editor's Note: Meghan has indeed listened to her nervous system. After several intense years, she is taking time to visit family, relax, and travel. She is soon to be touring the U.S. with her husband with relocation in mind. We know their nervous systems will tell them what place is right for them and, while we miss Meghan, we look forward to hearing about great things she'll be doing in her future!)