Life Care Wellness offers effective solutions for people with trauma, PTSD, or psychological stress: EMDR, SE, and Yoga Therapy.  Your counselor will discuss which therapy (or therapies) would be most helpful to you.  Trauma counseling is a specialty of Life Care Wellness, and our therapists help you heal from trauma.
---
Eye Movement Desensitization and Reprocessing (EMDR) Therapy
EMDR is an evidence-based treatment for trauma and Post Traumatic Stress Disorder (PTSD). EMDR has brought relief to an estimated two million people of all ages.  It is an effective treatment not only for trauma but also complex grief, phobias, addictions, anxiety disorders, and more.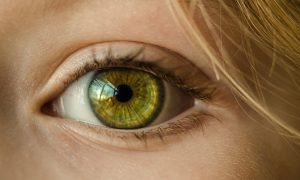 When a person goes through the unfortunate experience of a traumatic event, certain changes happen in that person's brain. The way your brain processes information becomes damaged. In general, the sounds, smells, images, and feelings of the trauma don't seem to go away, but get triggered by current events. EMDR has a direct effect on the way the brain processes information, allowing normal processing to resume. 
After successful EMDR treatment you will no longer relive the event every time it is brought to mind. You will still remember what happened, but it will be a memory of the past. It no longer will feel like it is still occurring in the here and now. Many Life Care Wellness affiliated independent therapists are trained in EMDR.
---
SOMATIC EXPERIENCING (SE™) Therapy
Somatic Experiencing is a powerful method for resolving trauma symptoms and relieving chronic stress.  Developed by Dr. Peter Levine, SE results from his multidisciplinary study of stress physiology, psychology, ethology, biology, neuroscience, indigenous healing practices, and medical biophysics, and decades of successful clinical application. 
Dr. Levine found that prey animals in the wild rarely become traumatized, despite routine threats to their lives. Yet he observed human beings become readily traumatized. He noted that mammals automatically regulate survival responses through the autonomic nervous system (ANS). Further, he saw that under threat, massive amounts of energy are mobilized in readiness for fight, flight, freeze, and collapse responses. Once safe, animals spontaneously "discharge" this excess energy through involuntary movements like shaking, trembling, and deep breaths. This discharge process resets the ANS, readying it for the next threat. Since humans and other animals possess nearly identical brain- and body-based survival mechanisms, Dr. Levine theorized that human beings get PTSD because of overriding this mammalian discharge response.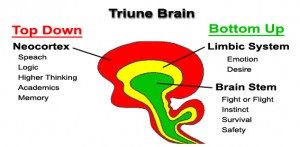 The SE approach releases traumatic shock – the key to transforming PTSD and the wounds of emotional and early developmental attachment trauma. SE offers a framework to assess where "stuckness" occurs in the fight, flight, freeze, or collapse responses. Further, it provides tools to resolve these fixated physiological states.  It also gently guides clients in developing increased tolerance for difficult bodily sensations and suppressed emotions. With this increased tolerance, clients can learn these tools to manage their own systems.
From a brain perspective, SE therapy works to shift brain stem and limbic system responses.  This "bottom up" approach gets at the root cause of trauma symptoms. Specifically, it facilitates the completion of self-protective motor responses and the release of thwarted survival energy bound in the body.
SE does not require the person to re-tell or re-live the traumatic event. Instead, it offers the opportunity to engage, complete and resolve in a gentle way the body's instinctual self-protective responses. Individuals locked in anxiety or rage then relax into a growing sense of peace and safety. Those stuck in depression gradually find their feelings of hopelessness and numbness transformed into empowerment, triumph, and mastery. SE sparks corrective bodily experiences that counter fear and helplessness. This resets the nervous system, restores inner balance, enhances resilience, and increases vitality, equanimity, and capacity to actively engage in life. 
A number of Life Care Wellness affiliated therapists offer SE therapy.
---
Yoga Therapy
Through the ancient art of yoga, individualized Yoga Therapy facilitates healing. The yoga therapist safely guides the client in body-based cultivation of mindfulness, self-awareness, and inner peace. In the present moment and stillness of a pose, one gains mastery over physical and emotional challenges. The issues that often lie resistant in the tissues are liberated to help foster empowerment in mind, body and spirit. Clients learn techniques on the mat, then carry those techniques off the mat for a life lived more fully in the moment.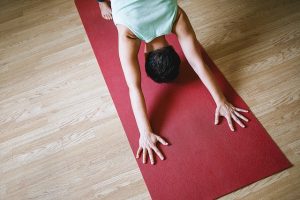 Yoga therapy is of modern coinage and represents a first effort to integrate traditional yogic concepts and techniques with Western medical and psychological knowledge. Whereas traditional Yoga is primarily concerned with personal transcendence on the part of a "normal" or healthy individual, Yoga therapy aims at the holistic treatment of various kinds of psychological or somatic dysfunctions ranging from back problems to emotional distress. Both approaches, however, share an understanding of the human being as an integrated body-mind system, which can function optimally only when there is a state of dynamic balance.  George Feuerstein, Ph.D.
Life Care Wellness therapists Jean Tschampa and Marina Lisjonok offer Yoga Therapy in our Glen Ellyn office.