In September I was fortunate to be one of 10 clinicians from across the U.S. who was invited to tour Open Sky Wilderness, an outdoor wilderness therapy program based in Durango, Colorado.  What is wilderness therapy?  A quick definition from Wikipedia: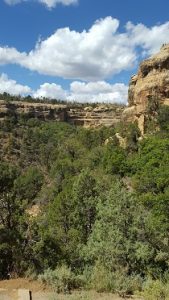 Wilderness therapy (also known as outdoor behavioral healthcare) is an adventure-based therapy treatment modality for behavior modification and interpersonal self-improvement, combining experiential education, individual and group therapy in a wilderness setting. The success of the Outward Bound outdoor education program in the 1940s inspired the approach taken by many current-day wilderness therapy programs, though some adopted a survivalist methodology. Clients typically range in age from 10–17 for adolescents, and 18–28 for adults. There are a variety of different types of wilderness therapy programs. The most common models are sustained expedition or base camp models with a typical stay of 8–12 weeks, while other single expedition-style models involve single 25–35 day trips. Their aim is to guide participants toward self-reliance and self-respect.
Wilderness therapy is often, though not always, a therapy of last resort. This is especially true for a young person who has had multiple treatments at different levels of care with no lasting results. In the wilderness, there is no place to run, no place to hide. Participants have to confront the reality of their lives and the consequences of their choices.
Prior to my visit, I was somewhat familiar with the concept of wilderness therapy.  I had heard some anecdotal horror stories about lack of safety. So I was very curious about what I would experience on my visit and took a healthy skepticism with me to evaluate what I would be shown and told.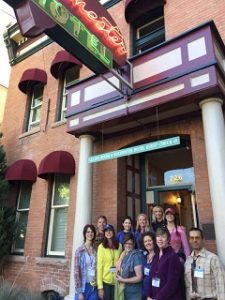 The visit occurred over two jam-packed days. I learned about Open Sky's model, which, in their words, "is built upon the theoretical frameworks of Humanistic psychology, a pan-cultural approach to rites of passage, the teachings of the Four Directions (which are found in multiple cultures), and holistic health practices that tend to physical, emotional, mental, and spiritual well-being." All of this takes place in the beauty and grandeur of the Colorado and Utah mountains. Students experience the power of nature to heal and reestablish their sense of purpose.
As visiting clinicians, we had in-depth talks with the founder, Aaron Hernandez, back office and clinical staff, field guides, alumni students and parents, and, most importantly, students currently in the program out in the field.  We were briefed on the structure of the program itself in great detail.  I asked lots of very direct questions about safety, medication, success rates, and more – and I was pleased with the transparency in the answers.
A Day in The Field
We visiting clinicians also went to the field for a full day and: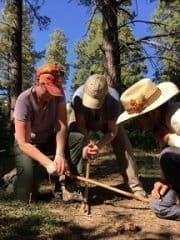 saw the packs, clothing, and materials students are issued at the start of their program,
watched and listened to the field guides at their morning team transition meeting (students are in the field 24/7, so field guide teams support them in a multiple days on/off schedule),
observed student groups and talked with individual students about their experience,
participated in yoga and mindfulness trainings,
joined the camp-wide seated meditation,
witnessed a graduation ceremony with students and their families,
learned a key task students must learn: "busting" a fire (starting a fire the old-fashioned way with a bow and spindle), and
participated in an "all hands" meeting with all Open Sky staff and lead field guides.
What I Learned
My two-day experience left me pleasantly surprised and, quite frankly, very impressed with Open Sky Wilderness. Perhaps most impressive is how they live their mission from top management all the way down to field guides.  And what is their mission? To inspire individuals to live in a way that honors values and strengthens relationships (their one-line mission statement). At the all-hands meeting, staff openly referred to Open Sky's values as they gave their updates (they even had these values listed on laminated sheets on the table they meet around). An admissions counselor admitted to me that management had been hounding her to take vacation soon as a part of her self-care. So the staff actively models this values-based decision-making and healthy living – the very thing they're trying to spark in the participating students.
I was also impressed that Open Sky understands the vital role of family involvement in the treatment process. They see what many treatment programs (in my opinion) don't quite get: that the student's chances of maintaining change increase dramatically when the family system is supported. Open Sky also put safety first in everything – teaching, modeling, and demanding safe procedures from students. Participants have a medical evaluation with a doctor upon arrival, access to medics in the field, and work with a psychiatrist on staff who aims to help students get to the least amount of medications actually needed.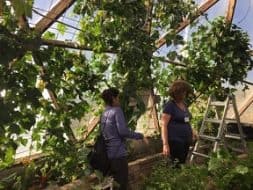 Open Sky has measured their work with empirically-validated research since their inception, and they collect data on every student to ensure that their services are effective. Also impressive is that unlike many outdoor wilderness programs, Open Sky students eat a balanced diet of whole organic foods with fruits and vegetables (many of which they grown themselves in a geodesic greenhouse) rather than a steady diet of beans and rice.  Additionally, Open Sky is a member of good standing with both Association of Experiential Education and the Outdoor Behavioral Council, the accrediting bodies for the outdoor therapy industry.  While wilderness therapy isn't always covered by insurance, Open Sky  tries to make it more affordable through partnering with "The Sky's The Limit" scholarship fund, which was started by an alumni parent.
While I imagine my comments sound like cheerleading for Open Sky Wilderness, frankly I believe they deserve the accolades. As I heard one of the students say, "Anyone would benefit from Open Sky."  I agree.  For more information about Open Sky Wilderness, go their website.
~ Rhonda Kelloway, LCSW, SEP