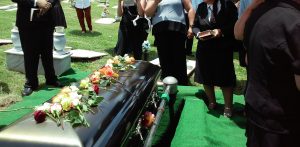 Death is a part of life. Yet when someone we know experiences the death of a loved one, we're often unsure about what to say or how to help. We don't want to blunder and make them hurt more than they already do. For what to do beyond saying "I'm sorry for your loss," the best advice comes from people who have been through the loss of a loved one. Here are some suggestions from them on what to say and some practical ways to help.
Suggestions for What to Say – and Not to Say
Don't try to take the pain away. It's simply not possible. The loss of a loved one is an emotional wound for which there is no way to heal except to go through.  Instead of trying to take away your friend's pain, simply be willing to be with your friend in his or her pain.  Silence and a hug or a gentle touch on the arm are much more helpful than platitudes like "he's in a much better place" or "her work is done" or "it was God's will."  Know that just sitting quietly with your friend while he or she is crying is in itself a huge help.  For just a bit, your friend gets to let down and be real while in the containing support of your caring presence.
Focus on today. "How are you doing?" can seem insensitive to the bereaved. Of course they're not doing well – their loved one just died! Instead learn to add the word "today" to your questions:

"How are you doing today?"
"Would you like visitors today?"
"Is today a good day for you to have my help in tackling the acknowledgement cards?"
Use the D-word. Acknowledging the death by using truthful terms like death and died honors your friend's experience. Consistently using euphemisms like "he lost his battle" or "she passed away" unintentionally sends the message to your friend that she has to use kid gloves when talking to you about the death. Related, use the name of the loved one because it acknowledges that the loved one still is very important to your friend. Sharing "I saw something today that I know would have had Bill laughing" communicates that you are not forgetting Bill either.
Don't make it about you. Yes, it was helpful for your mom to read scripture when she was grieving, but it may not be helpful for your friend. Grief is a singularly individual experience. It is not a process with clear stages, but rather a looping and chaotic roller-coaster ride of emotions. Honor your friend by following his or her lead.  Related, be very careful with offering encouragement that is specifically religious – even if you are of the same faith.  Because the grief process has so many emotions occurring simultaneously or in a very fast tempo, your well-meaning encouragement may not land as you intended.  For example, if the griever is feeling a lot of anger at God at the moment, your encouragement that "Marilyn is home with God now" may not have the encouraging effect you wanted.
Have no expectations.  Your friend may need to continue to repeatedly talk about various aspects of the death or their own grief process. Know that they are processing this trauma in their life and repetition is helping them heal.  If your friend is still crying months after the death, that is his or her way of grieving.  Let go of timetables for finishing the grief process and assessments (e.g. "You're looking so much better."). These tend to pressure your friend. It's best to simply give your friend the gift of your accepting and non-judgmental presence.
Practical Things to Do
Mark you calendar for at least 6, 9, and 12 months from the date of the death. The casseroles and cards are plentiful in the weeks after the death, but not so much afterwards. Spiritual blogger John Pavlovitz notes that "death is a date in the calendar, but grief is the calendar."  A simple "I'm thinking of you" card on an anniversary date can go a long way to acknowledge the ongoing nature of grief and mourning. Better yet, make calendar notes to call your friend weekly – and schedule regular in-person times with them, even if it's just for a walk or tea.
Know that special days like birthdays, anniversaries, and holidays call for more connection. Acknowledge these special dates to your friend. If you're having a holiday celebration, invite your friend, and then respect his or her response.
Anticipate needs rather than saying "call me if you need anything." While it's lovely to make that general offer, your friend will not be calling you. It's not that he or she don't need or want the help. It's just simply too much in their overwhelmed, foggy, and exhausted state to connect the dots on specific needs and then make the call to you. Instead, make concrete offers:

"I'll be there Wednesday to rake and bag leaves."
"Don't worry about snow; I'll be there every morning it snows and get your driveway and walk done."
"I'll walk Rover in the mornings before I go to work."
"I'm going to the grocery tomorrow at 2:00. I'll stop by on my way and pick up your list."
If you're particularly close to your friend or have a needed expertise, offer specific help in taking on a difficult project with your friend. You might offer to go with them to pick out the urn or casket.  Provide your financial expertise to go over estate-related tasks like making life insurance claims or assessing financial needs.  Extend a hand to help sort and pack up items from closets when they're ready to do so, etc.
These suggestions can guide you in helping your friend heal from his or her loss.  Has it been more than a year since the death and your friend's grief is impacting his or her functioning? Give them our information and encourage them to get help with their grieving process.
~Rhonda Kelloway, LCSW, SEP
Photo by Rhodi Alers de Lopez on Unsplash